08 Jul

LIVE DEMO | Submicron O-PTIR and simultaneous Raman (IR+Raman) microscopy webinar
Groot-Ammers | July 8th, 2021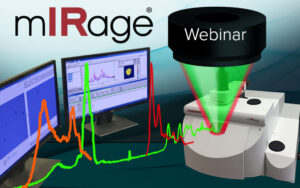 See first-hand, with a live online instrument demo, how the new breakthrough technique of Optical Photothermal IR (O-PTIR) spectroscopy is revolutionizing the field of IR spectroscopy.
Furthermore, see how it is also allowing for the combination with Raman, to provide for submicron simultaneous IR+Raman microscopy – a world first and only. 
DATE & TIME
📆 Thursday, July 15th, 2021
🕔 11:00 – 12:00 (CET)
Samples to be measured and imaged during the demo include:
Single cell bacteria/spores

Single eukaryotic cells and tissues

Polymer phase dispersion samples

Particulates (microplastics)
O-PTIR breaks all the known limitations and issues with conventional FTIR/QCL microscopy with a summary of capabilities listed below:
Ability to perform simultaneous, submicron IR+Raman microscopy (same spot, same time, same resolution);

Submicron (~500nm) IR or (IR+Raman) spatial resolution;

No IR dispersive scatter artefacts (Mie scatter);

Easy-to-use reflection mode (non-contact), delivering high quality spectra that are fully comparable to FTIR transmission data;

Single frequency (wavenumber) imaging, no more having to collect slow hyperspectrals;

Little to no sample prep, measure from 100nm to >10mm in thickness, rough or smooth;

Zero fluorescence interference for the IR, regardless of laser wavelength or sample;

Excellent spectral sensitivity in ~1sec;

No laser sample damage or phototoxicity (laser powers <100mW).
Dr. Mustafa Kansiz, Director of Product Management and Marketing at PSC, will present an overview of the technique, with examples of applications from life sciences, polymer research, particulates (microplastics), industrial failure analysis and more, before switching to a live online instrument demo.
Keep me updated!
Just enter your name and email and don't miss out on all innovative technologies in the world of surface analysis.