01 Apr

WEBINAR | Accurate nanoelectronic investigations of functional materials for optoelectronics application (via PinPoint C-AFM)
Groot-Ammers | April 1st, 2021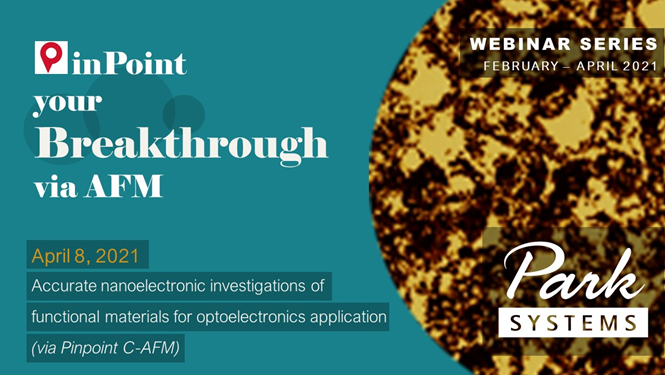 Successful integration of semiconductor thin films in high-performance optoelectronic devices requires homogeneous electric properties across the whole film. Particularly polycrystalline layers can feature local differences in their conductivity due to morphological features such as grain boundaries or defects.
DATE & TIME
📆 Thursday, April 8th, 2021
🕔 11:00 – 12:30 (CET)
Conductive atomic force microscopy (C-AFM) is ideally suited to correlate morphology with (photo-)electric properties on polycrystalline thin films at a nanometer scale. For that, a conductive tip scans the surface in contact mode and simultaneously detects the current flow at each scan position via a sensitive current amplifier. However, lateral shear forces acting between tip and sample often cause damage during C-AFM measurements which lowers the quality of the results.
During this live webinar Park systems' will demonstrate PinPoint C-AFM mode enabling stable, high-resolution current imaging on optically active semiconductors. This force-spectroscopy-based approach eliminates damaging shear forces between tip and surface and thus increases reproducibility for consecutive images. Moreover, the well-defined contact force not only provides accurate and reliable C-AFM data but also offers local mechanical information like stiffness and adhesion.
The webinar will be presented by Dr. Alexander Klasen, Principle Scientist at Park Systems Europe, Mannheim, Germany.
Keep me updated!
Just enter your name and email and don't miss out on all innovative technologies in the world of surface analysis.