23 Nov

WEBINAR | The sweet side of life: How to easily do nanomechanical AFM measurements on soft samples like chocolate
Groot-Ammers | November 23rd, 2022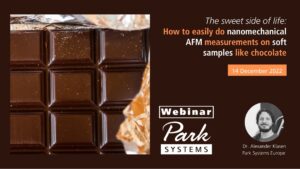 From functional polymer composites to wearable electronics or 2D materials or biological structures, local variations in mechanical properties dictate the macroscopic properties. Here, atomic force microscopy offers more analytic insights beyond mere topography.
DATE & TIME
📆 Wednesday, December 14th, 2022
🕔 11:00 – 12:00 (CET)
In this webinar series, Park Systems, will present how PinPoint mode measures high-speed force-distance curves for each pixel which allows us to study mechanical properties like Young's modulus, adhesion, or mechanical energy dissipation on a local scale. They will showcase how PinPoint mode enables facile integration of other modes such as conductive atomic force microscopy or piezo force microscopy and thus offers a holistic approach to nanoscale characterization.
Finally they will study the sweet side of science and demonstrate how to conduct real measurements on soft samples like chocolate and less-tasty polymer blends.
Keep me updated!
Just enter your name and email and don't miss out on all innovative technologies in the world of surface analysis.