18 Mar

NEW PARTNERSHIP | FORGE NANO – Atomic Layer Deposition (ALD) Solutions
Groot-Ammers  | March 18, 2021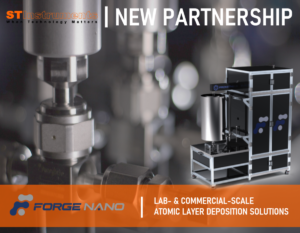 We are pleased to announce that we have entered into a strategic agreement with Forge Nano Inc. for the sales and service of their industry leading Atomic Layer Depositions solutions in the Benelux and Nordic regions.
Forge Nano Inc. (based out of Thornthon (CO) in the United States) are global leaders in surface engineering and precision nano-coating technology, using Atomic Layer Deposition. Forge Nano's proprietary technology and manufacturing processes make angstrom-thick coatings fast, affordable and commercially viable for a wide range of materials, applications and industries. Forge Nano's suite of ALD and PALD products and services covers the full spectrum from lab-scale tools to commercial-scale manufacturing systems.
At ST Instruments we believe that the atomic layer deposition capabilities of Forge Nano are very complementary to our existing portfolio of vacuum deposition solutions and are looking forward to a successful cooperation.
If you would like to learn more about Atomic Layer Deposition or Forge Nano's unique capabilities; please feel free to browse the information on our website or contact us for more information at info@stinstruments.com or contact us at +31 (0)184 640000.